Garmin's next generation Astro 430 system works twice as fast and is the premier high-sensitivity GPS enabled dog tracking system for hunting dogs.
Tired of searching for your hunting dog in tall grass or dense cover? Pinpoint your dog's position and know exactly where he is, even when you can't see or hear him, and leave the hunting entirely to him. Includes both the Astro 430 handheld unit and T5 transmitter collar.
(Product video for previous generation Astro 320)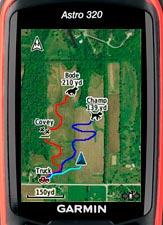 The Astro 430's GPS map screen with the new subscription based BirdsEye downloadable satellite imagery.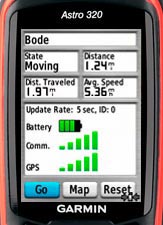 Find detailed information about each dog you're tracking.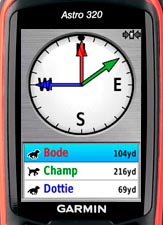 An easy to read compass points to your dog and their distance from you.
A Dog GPS that tracks their every move.
With faster 2.5-second location updates and the capacity to follow up to 20 dogs, Astro 430 is a handheld powerhouse of dog-tracking performance. Intuitive and easy to use, the Astro 430 handheld features a vibrant 2.6-inch color display, preloaded TOPO U.S. 100K mapping, an optional in-unit rechargeable battery and Hunt Metrics data to help analyze your dogs' tracking habits in the field, so you can know how to train more effectively.
Using the included T5 dog tracking collar (additional collars sold separately) to transmit each dog's location as often as every 2.5 seconds, Astro 430 is quick to pinpoint the track they're following — even when they're on the run. On the Astro's bright, crisp display, you can see your dog's current location and a trail of where he's been.
Track Dogs in Dense Cover

As often as every five seconds, your dog's T5 transmits his position to your Astro 430 handheld. You can see his current location and a trail of where he's been on the Map page of your handheld. Switch over to the Dog Tracker page to view a compass pointing to your dog's location as well as his current status: whether he's running, sitting, on point or treeing quarry. The new three-axis electronic compass lets hunters accurately view their dog's position when holding the handheld at any angle.
Astro can also sound an alarm to let you know instantly when your dog goes on point. In addition to audible alerts, Garmin has also incorporated a vibration feature on the Astro 430. You can track up to ten dogs at one time with Astro, at a distance of up to nine miles away (depending on terrain). The system transmits information by line-of-sight, so it reaches farthest in flat, open territory.
Rugged and Durable Collar Design
The new T5 collar transmitter is an upgrade to the previous DC-50 collar. The new T5 collar transmitter features a top-mounted high-sensitivity GPS GLONASS receiver for increased signal reception. The receiver's ability to track additional satellites using the GLONASS system helps locate the dog's position more quickly and maintain GPS location even in heavy tree cover or deep canyons. The T5 reliably sends the dog's position data straight to your Astro handheld.
This new T5 is waterproof (up to 10m), rugged and reliable! The charging connection has been completely redesigned, with the charger clamping around a housing that has no recessed areas for mud to accumulate. Even the LED charging light on the collar has been reconfigured to flash while charging, and glow solid when fully charged. LED beacon lights on the T5 can be activated from the Astro® 430 and Alpha® 100. The lights work in low light conditions and at night, and are visible for up to 100 yards away.
Experience a Full-featured GPS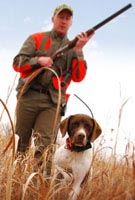 Astro shines when you're out on the hunt, but it also excels in getting you back to your truck at the end of the day, or even back home again. In fact, the Astro handheld has all the features of Garmin's top-line handheld outdoor devices, including a barometric altimeter, electronic compass, microSD card slot, celestial information, area calculator and rugged, IPX7 waterproof exterior. With optional detailed city street maps, you can search for over 6 million points of interest and create a route on roads with exact turn-by-turn directions.
Unleash the Full Potential by Adding Detailed Maps to the Device
Garmin's unprecedented ability to upload detailed maps to the handheld unit is what makes this device so amazing. Never get confused where you or your dogs are by over-laying Satellite imagery, Topo, USGS, and NRC raster maps directly on the main display. Each mapping addition allows you to use overlays, giving these maps the ability to work with one another at the same time by using layers.
Astro 430 Enhancements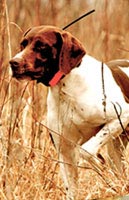 The Astro 430 improves user interface with a simpler menu structure and sophisticated graphics thanks to its vibrant, sunlight-readable 2.6" color display. Both durable and waterproof, Astro 430 is built to withstand the elements. It features the legendary toughness built for the rigors of the outdoors - be it dust, dirt, humidity or water, none of which are a match for this essential hunting companion. The 430 features a built-in worldwide basemap with shaded relief, plus support for enhanced mapping such as BirdsEye satellite imagery, Topo maps, and Garmin custom maps.
With an optional BirdsEye Satellite Imagery subscription, hunters can pinpoint buildings, powerlines, and even individual trees directly on their Astro 430. Hunters know, for example, if their dog has crossed a creek or is nearing a dangerous road. Garmin's free BaseCamp software allows hunters and trainers to download, view and save their dog's tracks to a computer for viewing later - a great tool for evaluating performance. A refined user interface streamlines what is displayed on screen by allowing dogs that are outside the current zoom level to have their location notated in the display's margin. The user can also choose the amount of each dog's tracklog displayed, or toggle it off completely to avoid cluttering the map.
This rugged handheld also has a built-in vibration motor to support silent alerts in addition to audible tones, a 3-axis digital compass (allowing the hunter to hold the handheld at any angle), improved reception range, a fully rubberized outer coating with an over molding for a better grip, a new keyboard design, and onboard memory for storing additional mapping (1.7 Gigs). The handheld also features a handy keypad lock so buttons aren't accidentally pushed while being carried in a pocket or through thick brush. The orange trim color is great for hunters and especially helpful for visibility if the handheld is dropped or misplaced. Dog handlers can wirelessly transfer waypoints, tracks, and even their dog's tracking settings to other Astro 430 users.
See all your dogs at once
Track up to 20 dogs at once by adding additional T5 GPS tracking collars to the Astro system. It's a breeze to setup, and you'll quickly be able to see what all of your dogs are doing and collect data for each of them. From a couple of dogs to a lot, we have you covered. The Astro can track DC-50 (with a firmware update), T5 or TT15 dog devices (each sold separately). The system transmits information by line-of-sight, so it reaches farthest in flat, open territory.
The GPS tracking system is a real benefit.
The Astro 430 can track up to ten dogs per receiver at once, and the collar gives location updates every 2.5, 5, 10, 30 or 120 seconds (user selectable). Battery life is 17-48 hours (based on update rate) on the rechargeable T5 collar and 24 hours on the Astro 430 receiver, which is powered by two AA batteries. The T5 collar takes 4 hours to fully charge. Both the T5 collar and the Astro 430 receiver are waterproof. The Astro GPS Dog Tracking System requires very little configuration straight out of the box, and is extremely simple to use. Once the transmitter and receiver acquire a GPS signal, the receiver automatically lets users know the location of their dog. There are no subscriptions or setup fees required to use the device.
Features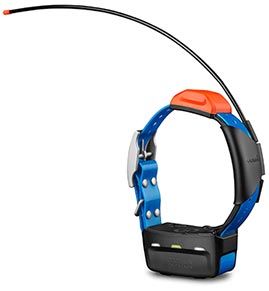 2.6" 65K color TFT display
High-sensitivity, WAAS-enabled GPS receiver and HotFix®
Increased tracking range with extended range antenna (included)
Built-in vibration motor to support silent alerts as well as audible tones
3-axis compass and barometric alimeter
Worldwide basemap with shaded relief
Internal memory and a microSD card slot for additional mapping
Wireless dog sharing for easy transfer of tracking capabilities to another Astro 430
Wireless unit-to-unit data transfer of waypoints, routes, tracks, and geocaches with other compatible devices
User profiles including preloaded profiles for different types of hunting (pointing dogs or treeing dogs) in addition to usage modes outside of hunting
Able to track up to 20 dogs simultaneously
Rugged, waterproof design (IEC 60529 IPX7)
High-speed USB cable
Supports Garmin spine mounting accessories
Up to 20 hours of battery life with 2 AA, NiMH or Lithium recommended
T5 is waterproof (up to 10m)
Collar features top-mounted high-sensitivity GPS ang GLONASS receiver for improved performance
Braided steel VHF antenna on T5 (21.5" long)
Dog position updates every 5, 10, 30, or 120 seconds
Replaceable collar straps (durable polyurethane-coated nylon with nickel-plated square buckle and "collar keeper"
Strap size is 27" long x 1" wide and fits dog neck sizes 12"-22.5"
Optional Small Strap available to accommodate dog neck sizes as small as 10.5" (sold separately)
Customer Reviews
Excellent!!!

Wish I had gotten one years ago. I don't have to guess where my do is when he ranges a little far or is in thick cover and out of sight. No more wondering if he's on point or still hunting when I can't see him. The piece of mind knowing that I can locate my dogs if they get lost for some reason is worth every penny. Also works great as a personal GPS when I'm not hunting with dogs. Great customer service from the folks at sporting dog pro.

(

10/26/2015

)

Flat out amazing.

Some buddies of mine have been using the Astro 220 for the last few years at the club, and since it was Garmin's first version, I waited for a new upgrade to come out. I just got this 2 collar edition and think it's going to change the way I hunt this year. Not that the 220 version is a bad version, but really, it's all about the maps. I added the birdseye satellite imagery download for eastern Arkansas, which makes the unit so much easier to understand. The Astro 320 is flat out amazing.

(

7/14/2014

)

Amazing GPS!

We had a chance to test this collar the other day, and it outperforms the earlier Garmin collars tenfold! Longer battery life, greater range, and it now lets your know when your dog is barking on the trail. The DC 50 has been a long overdue addition to the Astro 320. Big thumbs up!

(

7/14/2014

)

The best decision I made.

I have had hound dogs all my hunting life (45 yrs), I would travel on average 250 more miles a week getting my dogs back. I bought this 320 unit with DC 50 collars and so far this year every time I turn my hounds loose I have went home the same day with all my dogs. I am paying for the unit with the gas I am saving. Wish I could have bought this unit 35 years ago. I really like it. No problems so far.

(

7/14/2014

)