No-strings-attached invisible options for safely keeping them where you want them.
Derrick Moore, Senior Field Staff
Forget the pains of dealing with burying wire... A wireless containment fence can be just as effective.
Keeping your dogs in the yard isn't always easy. From squirrels to passing traffic, or even the mailman, a dog's instinctive nature to give chase and run can be relentless. Enter the world of electronic pet containment. Petsafe has been the leader in wireless pet containment fences, and currently has two best selling options available:
When I was younger, our family's britney spaniel, who normally stayed close to the house, chased the neighbor's young boy into their yard. She meant no harm, but the little boy was frightened and tripped, falling on to their patio while trying to run away from our dog. The road-rash and bruises paired with angry neighbors forced us to find a preventative solution to keep her in our yard.
Back then, we buried 4000 feet of wire, meticulously making right angles at each nook and following complicated landscaping in every cranny. While wired dog fences are an excellent way to fine tune the boundary area of your yard, there is an easier answer for those needing a fast and effective boundary.
So how does it work?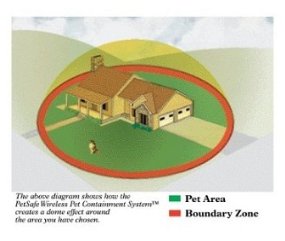 With no wires to bury, an invisible wireless dog fence can be conveniently set up in minutes. There are two components in a wireless containment fence--the transmitter, and the dog collar receiver.
Like a Wi-Fi network for your computer, the wireless containment transmitter is in the form of a stylish box, not much bigger than a lunch box and it plugs into any household outlet. It transmits a signal around the unit, creating a spherical transmission that can be read by the receiver.
The receiver collar, worn by your dog, detects the signal from the transmitter. When your dog approaches the outer perimeter of your boundary fence, and auditory signal is played warning your dog to stop and turn around. If they continue forward, a harmless and mild static correction is delivered to your dog. It's not harmful to your dog, but it will get their attention and reinforce where their boundary is. The static correction is similar to a static shock you get when you shuffle your feet across carpet and then touch a metal door handle. The level of correction level can sometimes be adjusted for each dog using the system.
Understanding the dog training process -- It doesn't happen overnight.
Obviously, your dog isn't going to immediately know what to do when they hear the auditory signal when they approach the end of their "safe area" boundary. Once your wireless fence system is set up appropriately, you will have to work with and train your dogs so that they are able to understand both the audible warning signal and their boundary area. For starters, setting up the boundary flags that come with the fences to draw a visible boundary line for your dog is very important. They will help your dog learn during the training process.
Put the receiver collar on your dog, but do not turn it on. This allows your dog to get a feel for their new collar. Using a short leash, walk your dog around the inside of the containment boundary flags so that they can become accustomed to the area. After a few days of this repetition, finally turn on the collar and do the walk again.
This time, let your dog experience the warning signal and correction stimulation occasionally. Your dog will start to understand his or her limits after a few days. Before long, your dog will simply stop and turn back whenever he or she hears the audible signal. At this point, the training is complete and the boundary flags can be removed.
Remember: A wireless dog fence is intended to be a correction deterrent to your dog, not a punishment. While underground pet fences are meant to keep your dog in, they cannot keep other dogs out. If you have a contained female pet that goes into season, it is strongly recommended that you speak with your vet as soon as possible to discuss your options.
What kind of range do they have?
The range for a Petsafe wireless dog fence varies per product. Ranging up to 3/4 of an acre, each containment system allows you to back off the maximum boundary range allowing you to have a containment area as small as a room. Petsafe brand fences allow you to have multiple working transmitters, giving you the ability to overlap your boundary circumference.
In Conclusion...
Petsafe wireless dog fences work, and they start working fast. Made of high quality materials, these wireless fence for dogs keep lasting for years. The collar transmitter is also waterproof. While wireless units may not suit everyone's specific needs, most dog owners find that these units do the trick. We certainly do, and hope these wireless dog fence reviews help you keep your dog under control.
Petsafe Wireless Fence Reviews - Keep Your Dogs Close