Designed specifically long range hunters. Communicate with your dog when they are miles away.
Derrick Moore, Senior Field Staff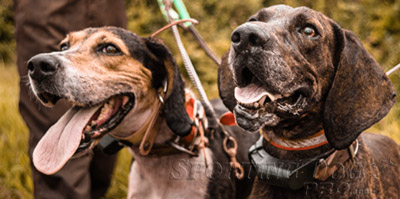 What sets the hound apart?
No other recognized group of sporting dogs are as well bred for chasing game than the hound group. Bred for their innate scenting ability and enduring physical stamina, this group has what it takes to follow the trail to the end. Some of the most common breeds still hunting today include the American Coon Hound, Foxhound, Black and Tan, Bluetick, Plott, and don't forget, the Beagle. These dogs are relentless and driven. While they can be loyal and faithful companions, they also understand they're made for one purpose- to hunt. And they do just that, hunting everything from rabbit, squirrels, raccoons, deer, and black bear.
A little history about these trackers with the best noses in the canine world.
Since a few hundred years B.C. hounds have been used to track, flush, and run wild game to assist their masters in putting food on the table. Larger ones were bred to take on the fiercest of wild animals including wolves and bears. Other types were tailored to hunt small game or burrowing animals. For example, the small Dachshund fits in this category as it was bred for its badger hunting abilities. In recent history hound hunting became just as much a gentlemen's sport as wingshooting. Many artists have depicted English Foxhounds followed by their mounted hunters in proper apparel lead by a bugler. In modern times it is still a social sport. Many hunters gather together in clubs or other events to share the enjoyment of hearing their dogs run. Actually hunting usually takes second place to the opportunity to spend time with friends and family to compare dogs or otherwise talk shop.
How to train a hound hunting dog and why a remote collar can help.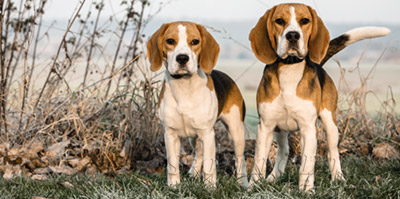 One might ask, "How would you use a training collar on a hound dog?" They're usually not trained to sit, stay, or come. You don't require your Beagle to point, or your Plott to retrieve. There are many uses though. One of the most frustrating issues of a hunt is when your dog is chasing the wrong game. Rabbit Beagles don't typically run far because rabbits tend to run in circles, however, if a deer is stumbled upon, a new chase may be on and send that Beagle miles through the countryside and far away from you. A quick correction from a training collar while training hound dogs would prevent this. Another use is if a dog becomes too aggressive in a hunt. You want your dog to run the game and leave the taking up to you. Pull them out of the hunt with a training collar. Also, when hunting several of them together there are potential issues with aggression from one dog to the other that a training collar can also discourage. Not to mention the fact that they are obviously very vocal. Any unwanted or nuisance barking could be controlled with a remote training collar.
Tough Gear for Tough Dogs.
E collars for hounds have to be the toughest thing made. No other types of dog hunting require their equipment to be able to withstand miles of timber, brush, briers, swamps and streams day after day from sunrise to sundown. The collar strap has to be tough, the receiver must be fully waterproof, and the entire unit must be virtually shockproof. If there is any deficiency in the training collar it will be found. This is one area where the pet store brand won't do. You're gonna need the right hound hunting supplies.
The ability to add multiple collar receivers to one transmitter is a priority. Hunting hounds work in packs. There are lead dogs, scent dogs, and driving dogs that all work together in order to be successful. Most training collars designed for the hound hunter are made with this requirement. They have the ability to quickly switch from one collar receiver to the next and multiple color collar straps are available to help you keep track from one to the other.
Locating and tracking your dogs is of course a major issue since these dogs cover a lot of ground. Many advances in dog tracking collars have been made in recent years especially in the area of GPS tracking collars for hounds and hunting. Many of these GPS collars may also be used as training collars and even bark collars. For more information about some of these devices be sure to look at the GPS tracking section of our store.
Hound hunting is a rich tradition in our history with a social aspect that has kept many dog breeds and bloodlines thriving today. This sport has connected friends, family, and dog enthusiasts across generations and geographic areas. Utilizing the tools available to this unique group of hunting dogs will only enhance the overall outdoor experience.