Pathfinder brings GPS and e-collar technology right to your smartphone, giving you a more intelligent and responsive way to track and train your dogs.
Designed to meet Dogtra's legendary standard for quality, the Pathfinder is for serious dog trainers and owners who demand the most in working, hunting and competitive situations.
You have access to Google Maps™ with satellite and terrain views and the ability to track up to 21 dogs or hunters, share locations, playback data and create customizable Geo-Fence alerts. With an incredibly fast two-second update rate and a powerful zoom capability, the Pathfinder tracking feature provides greater live-action detail and accuracy when you're in the field. Won't have cell phone service where you're going? No problem. Just download the maps before you go and you'll be able to use them while you're out of service.
Pathfinder App Features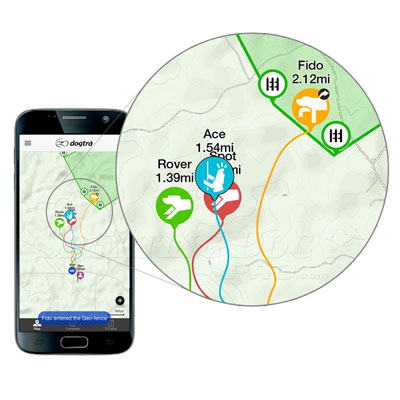 At a glace, easy to read high quality maps and icons let you see where each dog is and what they are doing. Each dog icon in the map view will allow you to see if your dog is running, treeing, pointing, or going somewhere where he's not suppose to be. Swipe to the compass view, and you'll easily be able to see which direction everyone is in relation to your current position. Swipe once more, and a full featured remote training collar menu allows you to deliver commands with the tap of a button. Quickly adjust correction type, level, or send tone from the screen as well.
Works on both iPhone and Android devices, and the app can be downloaded via the App Store or Google Play. The Pathfinder app works without using cellular data. Just download the free maps and operate your smartphone in offline map mode. Unlike other GPS e-collars, there are no extra navigation packages to purchase.
Download the Pathfinder Smartphone App
Download the User Manual

- Dogtra Pathfinder User Manual
Features
Smartphone GPS tracking and training : No cellular data required
Full e-collar functions, including nick/constant stimulation and tone
Detailed satellite and terrain views by Google Maps™ along with an offline map mode
Two-second update rate for greater tracking accuracy
Map zoom capability for superior tracking detail
Tracking Only mode with verifiable data and secure contact point covers
Geo-Fence and alert options let you customize boundaries and receive notifications
Easy location sharing for dogs and dog owners
Expandable to 21 additional GPS Collars and Pathfinder users
History playback on your smartphone and computer
9-mile line-of-sight range to cover your most active runner
Fully waterproof for use in all environments
Long-lasting, rapid charge lithium polymer batteries
Custom alerts for dog actions using pop ups, sound and vibration
Rheostat volume with stimulation levels, 1-100, for every type of dog training situation
Getting Started Video
Customer Reviews
Love it

I have only had this for a short time. I would like to see the collar automatically tone and nick if the dog leaves the gel fence. I use this in a subdivision and I don't want him to cross any streets. If I were truly hunting I would have the unit in my hand at all times but using it the way I am I set it down while I work around the house

(

5/2/2017

)