Our tiniest static bark control collar, perfect for small, miniature, toy, and otherwise little dogs below 9lbs.
The smallest static no-bark collar in the world! Measuring at 1.6" x 1.73" x .98", and ultra lightweight weighing only 0.60 oz, this miniature bark control collar is perfect for small dogs (under 9 pounds) and is intended to reduce nuisance barking.This collar is most suited for the sensitive small dog who responds well to stimulating or discipline. We have discovered that although this collar is small, it is not for every small dog. Small dogs with dominate personalities do not usually respond well to this collar meant for the most sensitive, mild mannered small dogs.
There are 3 operating modes to match your dog's temperament:
1) Beep/tone only
2) Beep/tone + progressive stimulation for sensitive dogs
3) Beep/tone + progressive stimulation for difficult, stubborn dogs.
Fully-featured no-bark collar includes an automatic safety shut-off feature, is rechargeable, and water-resistant.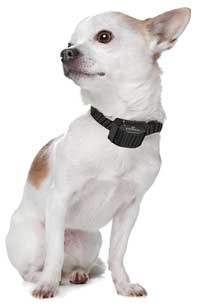 Features
Rechargeable
Ultra light : only 0.60 oz (17 g)
Miniature size: 1.6" x 1.7" x 0.98"
Water resistant
Battery level indicator
Beep/tone options
Progressive stimulation for sensitive or stubborn dogs
Customer Reviews
It works!!!

We have a one yr old Chiweenie who is cute as can be, but is s "tapper". We tried another brand, but it was too heavy and spun around her neck. This collar is small, light AND it has worked like a charm!!! It is also very easy to recharge.. Her litter mate brother is larger and still has the larger collar. We are coming back for collar #2 , thanks for a wonderful product.

(

2/8/2017

)

Good product but charger isnt that good

I followed all of the instructions for charging the shock collar to find that I needed to put a book on top of the collar and charger so the metal pieces would meet and the collar would charge. The collar works very well when charged but the charger doesn't work that well. If you're looking for a toy shock collar unfortunately this may be your only option.

(

12/30/2016

)

Works good

Helped my dog not bark at people, I hope one day I won't have to use it

(

10/31/2016

)

didn't work for my yorkies

Love the idea of a rechargeable and small bark collar, unfortunately it did nothing to deter the barking with our yorkies.

(

6/8/2016

)

Satisfied!

I purchased the Eyenimal Minature Bark Control Collar for my dog; unfortunately, it was not big enough for him and didn't give me the response I needed. I believe this type of collar is used on a very small dog. I originally didn't give a great review since I hadn't heard back from an email I had sent SDP a week prior. Immediately, after I submitted my review, I got the nicest phone call from the sales representative of this company. The email that I originally sent was not received. The representative was more than understanding of my purchase and promptly fixed my issue! If I need to purchase anything like this again for my dogs, I definitely will go through Sporting Dog Pro. It truly is one of the best experiences I have ever had with returning a product and receiving quality customer service.

(

3/17/2016

)

Perfect for my Pomeranian

Works perfectly! I was initially concerned about the weight of a e-collar on her, but she has no problem carrying it and it doesn't get in her way while she runs around the house. Stopped her constant yapping at the neighbor's dogs when they let them outside.

(

9/25/2015

)