Covers up to 1/2 acre with no wires to bury. Sets up in minutes!
Simply plug in the transmitter somewhere inconspicuously in your home. It emits a radio signal around your home. Your pet wears a lightweight receiver collar which listens for the signal. While its receiving the signal, your dog is free to run and play. When it approaches the boundary of the signal area, it receives a warning beep. If it continues, it receives a light static energy pulse which is startling but not harmful. With a little training that is simple and quick, your pet quickly learns its boundaries. Setting the boundaries of your yard takes only a few minutes by adjusting the range on the transmitter, from a radius of just a few feet to up to 90 feet. Since the signal can transmit reliably through walls or other household obstructions, it can be placed in any convenient and discreet location in your house, typically a garage or closet.
How does the Pet Containment Wireless Fence System work?
A containment system is the cost-effective alternative to traditional fencing. You create an in-ground hidden fence using a boundary wire. The detailed instructional video and/or DVD guides you through the easy-to-follow self-installation process.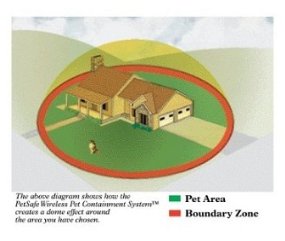 When your dog is wearing a containment collar and approaches the boundary area, he hears a warning tone. If he continues toward the boundary, he receives a harmless but effective electrical stimulus that reminds him to stay in the "safe" part of the yard.
You can also use a containment system to block off areas such as gardens, swimming pools, or anywhere else you don't want your dog to go. If you have a traditional fence, but a dog who likes to dig under or jump over it, installing the boundary wire just inside the perimeter of the fence could be your answer.
Most importantly, these systems provide freedom for your dog to run and peace of mind for you. It all adds up to a yard filled with more happiness, more safety, and more peace of mind.
Hold multiple dogs within an invisible wireless boundary.
You can use as many collars as you need to with your PIF-300 wireless invisible fence system by adding additional PIF-300 Wireless Receiver/Collars. These collars can be individually setup for each of your dogs, and is comfortable enough for them to wear all day.
The collar is small, light, waterproof, and takes easy to replace 3v batteries. It also includes 5 levels of static correction and a tone-only mode.
Extend your containment range by over-lapping transmitters.
With an extra Wireless Fence Transmitter, you can overlap boundary areas to extend as far as you need.
For use with the PetSafe PIF-300 Instant Fence, this additional IF-100 Transmitter may be purchased to create a separate containment area, or overlap two transmitters to create a larger containment area.
Petsafe Wireless Instant Fence User Manual Downloads
Features
Wireless - sets up in minutes, just plug and play.
Portable - can easily be used while traveling or taken to a new home if you move.
Safe and Secure - provides a safety zone that you pet won't run through, dig under, or jump over.
No installation;no buring wire;no stakes.
This system will support an unlimited number of collars (1 is included).
Easy-to-follow operation manual and video.
Instant installation - if you can plug in a cord, you can set up the Instant Fence.
Also check out the upgraded version: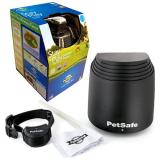 PetSafe Stay + Play Rechargeable
Wireless Fence
Customer Reviews
Checks all of the boxes.

I love this product. I can now let our dog out and she can run all around our property without me hanging onto her, or being hooked to a cable. She gets so much exercise running, when she comes it she's much more relaxed and less hyper. Would recommend any time.

(

3/8/2023

)

Keeps them in the yard.

My wife has been using this wireless fence for the last three years, and we've never had a problem with our 6 dogs getting out of the yard. It all started when our lab, Gracie, kept digging up our neighbor's flowers. The fence was easy to set up and stopped her from wondering off. Now when we get a new dog, we immediately get another collar to go along with them.

(

5/20/2014

)