Covers up to 3/4 acre with no wires to bury. Easy setup!
Just plug in the transmitter somewhere inconspicuously in your house. It emits a radio signal around your home. Your pet wears a lightweight receiver collar which "listens" for the signal. While its receiving the signal, your dog is free to run and play. When it approaches the boundary of the signal area, it receives a warning beep. If it continues, it receives a light static energy pulse which is startling but not harmful.
With a little training that is simple and quick, your pet quickly learns its boundaries. Setting the boundaries of your yard takes only a few minutes. Since the signal can transmit reliably through walls or other household obstructions, it can be placed in any convenient and discreet location in your house, typically a garage or closet.
How does the Pet Containment Wireless Fence System work?
A containment system is the cost-effective alternative to traditional fencing. You create an in-ground hidden fence using a boundary wire. The detailed instructional video and/or DVD guides you through the easy-to-follow self-installation process.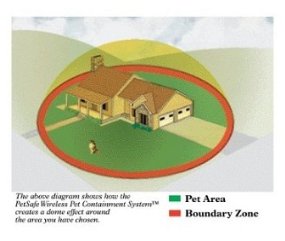 When your dog is wearing a containment collar and approaches the boundary area, he hears a warning tone. If he continues toward the boundary, he receives a harmless but effective electrical stimulus that reminds him to stay in the "safe" part of the yard.
You can also use a containment system to block off areas such as gardens, swimming pools, or anywhere else you don't want your dog to go. If you have a traditional fence, but a dog who likes to dig under or jump over it, installing the boundary wire just inside the perimeter of the fence could be your answer.
Most importantly, these systems provide freedom for your dog to run and peace of mind for you. It all adds up to a yard filled with more happiness, more safety, and more peace of mind.
Hold multiple dogs within an invisible wireless boundary.
You can use as many collars as you need to with your Stay + Play wireless invisible dog fence system by adding additional Stay + Play Wireless Receiver/Collars. These collars can be individually setup for each of your dogs, and is comfortable enough for them to wear all day.
The collar is smaller and lighter than previous petsafe wireless fence receivers, waterproof, fits custom straps, and is rechargeable (say goodbye to expensive batteries!). It also includes 5 levels of static correction and a tone-only mode.
Extend your containment range by over-lapping transmitters.
With an extra Stay + Play Wireless Transmitter, you can overlap boundary areas to extend as far as you need. The petsafe wireless fence transmitter is 1/3 the size of the older Instant Fence model. The sleek in-home unit is tiny, portable, and just needs at outlet.
The transmitter has two built in warning alarms: a Power Loss Alarm and a Transmission Failure Alarm. The Transmitter Power Loss Alarm sounds an intermittent tone alarm indicating power has been removed from the Transmitter. The Power Loss Alarm will last up to 30 minutes. In the event of a power loss, your pet is no longer contained.
Petsafe Stay + Play User Manual Downloads
Features
Covers an adjustable circular area up to 3/4 acre.
Completely portable - no wire to bury.
Rechargeable Receiver/Collar quickly chargers in 2-3 hours.
Collar/Receiver is fully waterproof.
Suggested for dogs over 5 pounds with neck size from 6" to 23".
5 adjustable levels of correction plus tone only mode for training.
Set-up in 1-2 hours.
One-Year Warranty.
In The Box
Transmitter with Power Adapter
Waterproof Receiver with Adjustable Collar
Receiver Charger
Operating and Training Guide.
50 Training Flags
Test Light Tool
Short and Long Contact Points for short or long-haired pets
Contact Point Wrench
Customer Reviews
love it

this system isexactly what we needed. we followed directions and its a dream come true

(

7/17/2020

)

Worth every cent!

I finally bought one of these a few months ago. We have a Rott / Pit Bull mix that is 120 pounds of pure muscle and don't have him fixed. He likes to roam the neighborhood, but is super friendly. We don't like to tie him up because he digs holes then in the yard. We always wanted one of these but because of the price we never could afford it. I finally broke down after worrying about him for several hours of not being home. The fence works great! Took about a week for him to get used to it. Actually for the first week he would not leave the inside of the house, but once he got used to the boundaries, he was fine. We have it only turned up about half way. Now i let him out and i don't have to worry about him wondering off. Portable too if we move, which an in ground system isn't. So worth the money!

(

5/1/2014

)