24"W x 28"H x 36"L accommodates medium sized dogs, such as Labradors and smaller sized Retrievers.
Unlike plastic and wire crates which easily crack and bend and need to be frequently replaced, these crates are built to last a lifetime. Strong yet lightweight, the Deluxe 4000 aluminum dog crate offers incredible strength at one third the weight of steel.
Heavy-duty Aluminum Construction
These crates are constructed from lightweight aircraft grade aluminum which is known for its durability and strength. Aluminum crates are perfect for dogs who often destroy or break out of plastic and wire crates. While built to be strong and secure, the crate is light enough to be handled by one person with little effort.
Stainless Steel Hardware
Lock and mounting hardware are made from stainless steel to eliminate rusting and corrosion.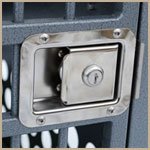 Lockable Slam Latch
Each door comes with a flush mounted slam latch which is keyed for added security while you are away from the crate. Rest assured that someone cannot simply open the crate and walk away with your dog. Made from strong "stainless steel" for durability and to prevent corrosion.
Superb Ventilation
The crate is fully vented down each side and along the back wall to provide maximum comfort for your dog. The open design allows air to pass freely thru the door aided by the triple rows of lower and upper vent holes which surround the crate. By its very nature aluminum quickly dissipates heat making it a great material to construct dog crates provided there are enough air holes. Lots of adequate venting ensures your dog will remain safe while in its crate.
Airline Travel Approved
The Deluxe 4000 crate exceeds the strength and ventilation requirements by most airlines. By installing the optional "Airline Travel Kit" the crate can be used to ship a dog by air. Strong aluminum crates will not bust or be broken by rough handling or shifting cargo loads thereby safe guarding your dog on route. When you ship your dog in this heavy duty dog crate, he will be well protected.
Modular Design
The crates can be coupled side by side or stacked atop one another to form multiple dog crate systems or kennel banks.
Powder Coat Finish
The crates are finished in a durable "Silver Hammertone" powder coat both inside and out. The tough finish is "baked on" so that it will not wear off. By powder coating the inside as well as the outside it protects your dogs coat from discoloration. Coat discoloration is common when a dog sits in an untreated aluminum crate. The bare aluminum oxidizes and the residue rubs off onto the dog resulting in a grey silvery color. This will not happen to this crate.
Solid Reinforced Doors
Strengthened with solid bars and welded for extra strength the door is built to hold your "Escape Artist". A full length piano hinge and striker plate is standard and the door can be easily reversed to allow for left and right hand opening.
Winger Aluminum Dog Crate Manual Download
Features
24"W x 28"H x 36"L - 33.5lbs
Stainless Steel Hardware
Silver Hammertone Powder Coat
Locking Slam Latch
Solid Barred Doors (Reversible)
Spring Loaded Handles
Airline Rails to insure airflow
Accommodates dogs up to 125 lbs
Customer Reviews
Wish we bought this sooner!

Our dog struggles from severe separation anxiety and broke out of 3 crates prior to this one. He has hurt himself - broken toenails, scratched his nose up, got stuck trying to get out of the crate, etc. and was in a lot of distress. I wish we bought this crate sooner! It's worth every penny. We have had it for about 3 weeks now and he quickly learned that he can't break out of this crate. He even falls asleep now sometimes when we are away! This crate has kept him safe and given us all relief. Highly recommend!

(

10/28/2020

)

Perfect!

Finally found the perfect crate to travel and fly with my GSP. Thank you Sporting Dog Pro!

(

8/1/2018

)

Expensive

This is a well built kennel except for one major flaw. I bought this thing in an attempt to keep my dog from escaping. It didn't work because the door latch can easily be opened from inside. I had to mount external barrel locks on the door after assembly. Other than that it's great I suppose. Three stars for the product. Five stars for sporting dog pro and their service.

(

1/17/2018

)

5 stars!!!!!

I have looked at all kinds of dog crates for the last year and this by far is the best crate out there. Well worth the money. I will be purchasing another one next year.

(

10/13/2015

)

The best investment I've made for my dogs!

My English Pointer went through two hard plastic crates before I got this hard core aluminum one. No chance for him getting out of this one, and the lockable latch adds peace of mind when I travel. Easy to assemble, and with the wheels, it's easy to move around. People constantly ask me about where I got it from. I love this crate so much that I bought three more for my German Short-haired Pointer and my two Weimaraners. Thanks guys.

(

7/15/2014

)

Hands down the best crate on the market.

Yes it's expensive but totally worth it!!! I currently have a Pitbull who can get out of an plastic and cheap metal crate. After doing a lot of research I knew the this was the one to buy! I would recommend this product to anyone who is looking for a heavy duty top of the line crate! A++. Also Sporting Dog Pro customer service did a great job shipping this item and answering all of my questions. Very happy customer :)

(

5/2/2014

)