Let your dogs set their own correction level automatically.
The SportDOG NoBark SBC-R collar can let your dog set their own level of correction to stop their barking, ensuring that they don't recieve over-correction. It is designed to get your dog's attention and interrupt their barking pattern, not to punish them. The NoBark SBC-R uses advanced digital technology, allowing for the most superior bark detection ever. External noise or another dog's bark won't trigger a correction. Now with the option of both long and standard Contact Points, the SBC-R offers 10 levels of static stimulation, as well as 3 programmable modes: Temperament Learning, Progressive Correction, and User-Selected.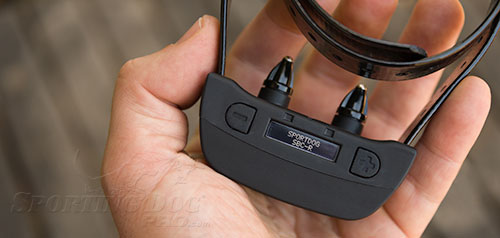 The SBC-R is great for use in single-dog situations or in a kennel setting with multiple dogs. Recommended for dogs 10 pounds or larger with neck sizes from 5" to 22".
Includes great features such as an LED display, a submersible (to 10 feet) waterproof collar, and a rechargeable lithium-ion battery that charges in 2 hours and lasts approximately 200 hours per charge. The built-in safety feature detects if your dog barks 15 times or more within an 80-second period.  In this instance, the SBC-R will stop issuing stimulation for 30 seconds and then resume normal operation. This safety feature is active in all three modes of operation.
We at Sporting Dog Pro can't recomend the usefulness of this collar enough. It works safely and quickly.
You choose the mode that will work best for your dog.

Temperament Learning Mode: Correction starts at the lowest level (1) and increases to the next level each time your dog barks within 30 seconds of the previous bark. The collar remembers the correction level needed to stop your dog's barking. The next time your dog starts barking, the correction will automatically start at the last/highest level used. The static stimulation level will be reduced 30 seconds after your dog stops barking.

Progressive Correction Mode: Correction starts at the lowest level (1) and increases to the next level each time your dog barks within 30 seconds of the previous bark. If your dog doesn't bark again within 30 seconds, the correction will reset to the lowest level (1).

User-Selected Correction Mode: You manually choose the correction level. If your dog barks, the collar will correct him at the level you've selected until he stops barking. Always start training at the lowest level of correction. Watch how your dog reacts, and if necessary, progress to the next correction level.
What you should expect while using the NoBark SBC-R on your dog.
Firstly, do not attach a leash to any part of this collar. It can cause excessive pressure to be applied to the contact points on your dog's skin. Proper fit of the collar is important. A collar worn for too long or made too tight on the dog's neck may cause skin damage. We highly encourage you to read all of the instructions in the user manual. You'll definitely want to learn the things to do and not do with this device.
It is very important to not leave your dog alone the first few times he receives a correction from this collar. After you place the collar on your dog, and power the device on, be somewhat close to him while you wait for him to bark. Since the static correction will be a new sensation for your dog, after he receives the first correction from the collar, he may start barking more as a result. Not to worry, they will quickly understand that the collar is disrupting their urge to bark, and will soon relax and stop barking all together.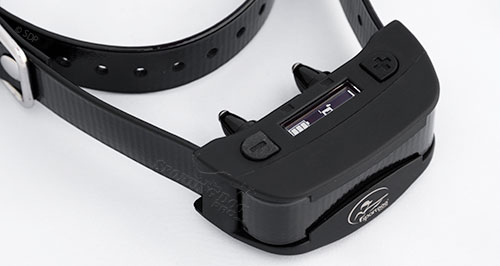 In some rare occasions, your dog may get into a bark-stimulation-bark-stimulation cycle with the new sensation and continue to bark, which in turn will send additional corrections to them. If this happens, be right beside your dog and reassure them with a calm and soothing tone that everything will be alright. Once they learn that their barking is the root of the problem, they will relax and stop making the noises. This rare occurrence will usually only happen the first time they wear the NoBark R.
You should notice a huge difference in the amount of barking your dog does within the first few days of wearing the collar... but the learning process is still not complete. In some cases, dogs will "test" the new training experience in the second week by trying to "out-bark" the collar, thus receiving additional corrections. If this happens with your dog, you must remain consistent with its use and keep the SportDOG NoBark SBC-R on them in every situation that you expect them to be quiet. Once your dog understands what the collar means, you will then be able to decide when the collar is to be worn and when to leave it off.
User Manual Download
SportDOG SBC-R Features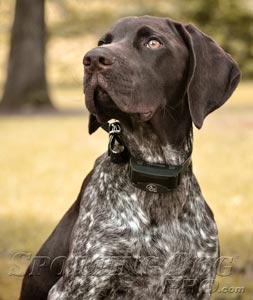 Automatically stops barking.
3 Selectable Modes: Temperament Learning, Progressive Correction, User-Selected
10 Levels of Static Stimulation
LED Display shows current mode of operation and battery status
Built-in "time out" safety feature during excessive barking period
Fully waterproof and submersible (up to 10 feet)
Rechargeable lithium-ion battery
Battery charges in 2 hours and lasts approximately 200 hours per charge
For dogs 10 lbs and up (neck sizes 5"-22")
In the Box
NoBark SBC-R Collar
3/4" Black Collar Strap
Adaptor With Charging Cradle
Standard Contact Points
Long Contact Points
Operating Guide

Customer Reviews
Good collar for a very specific purpose

This is a great collar if you need to help your dog understand when he/she can bark and helps the owner stop the behavior more quickly. My dog is e-collar trained but we moved to a new home with a very loud dog on the other side of our fence and the two dogs would fence fight. Correcting my dog every time this happened was very difficult and inconsistent so I needed something that would let him know this is unacceptable. It works and it's very reliable but the collar needs to be fitted properly. With any training, be consistent, be fair, and reward your dog when the behave properly.

(

11/17/2023

)

Works perfectly!

Used this on my lab in temperament learning mode. It stopped his obsessive barking in two days.

(

1/7/2022

)

Great Product

Product performs as advertised. This is the second one of these I have bought, due to how good the first one performed. The charging mechanism is simple and long lasting. The collar is high quality, and level of adjustment to size of dog is large. Have no issues recommending this collar to anyone. You won't be disappointed if your looking for a quality bark collar.

(

4/16/2019

)

Two Thumbs Up

When my wife and I considered getting a bark collar for my service dog who, when at home and not under command believes she must protect our home from all enemies, foreign and domestic, to include squirrels, chipmunks, and the errant oxygen molecule, we were very particular and spent hours discussing and days researching and comparing different models' features and tenants of correction. We rarely subscribe to the paradigm of "correction" - especially repeated over-correction via electric/static shock. Our 60 lbs. Labradoodle is very sensitive to correction and it often takes very little encouragement for her to align her actions to a given command.

When we began looking for a bark collar, we knew that we didn't want to use a chemical spray collar. Our desire was to find one that provided a 'reminder' each time she would bark to alert her to unnecessary and repeated sessions of barking. Our quandary was determining what level of correction would be required in the event our pup wasn't listening. When we found the SBC-R from Sporting Dog Pro, we were immediately intrigued by the collar's ability to "learn" what Emma needed and provide graduate levels of correction. Compared to other models, this feature coupled with vibration and audible reminders was the determining factor for us.

Of course, price was considered and while the SportDog collars aren't the least expensive option, we would highly recommend them. The SBC-R is reliable, rechargeable, and, when needed, the battery can be replaced. It's feature set outweighs the competition and our Emma has reduced unwanted barking easily more than 90%! That's a HUGE decrease and we are very, very pleased.

Thank you, Sporting Dog Pro. (

12/29/2018

)

Worked Great

My dog ran out of the house and started barking at the neighbor's dog; his collar zapped him and he stopped immediately. Then he ran over to the other neighbor's fence, barked once and stopped. He turned and went swimming in our pool . Since we got a water proof collar he was fine. We have a 20 pound male Scottish Terrier. He and us are very happy with his new collar!

(

7/15/2018

)

Excellent

My rescued Silky Terrier Josh has been a loud barker since we got him. We use a bark collar on him when we are not home. I was looking to replace his old collar and read your reviews and had to give it a try. It works great. We call it his good boy collar. We just moved to a condo and don't want to be a bad neighbor. I am very impressed with how effective it is and would highly recommend it.

(

6/27/2018

)

Excellent collar

Previously to this purchase I bought Dogtra brand bark collars. No matter what I tried I could not get them to work, dogs kept barking. Called Dogtras customer service, they were no help, terrible product. Bought 1 Sportdog to try, we have 2 German Shepherds but didn't want to waste money if it didn't work. No more barking, works as advertised. Ordered a 2nd 2 weeks later.

(

6/14/2018

)

Silence is Golden!

My 6 month old Golden retirever was having a hard time learning that at night he needs to shhhhh. But, this Bark collar has been a flipping miracle! The other night I forgot to turn it on, and he was still quiet all night! Definitely worth the investment, and will use it for all my dogs in the future!

(

2/12/2018

)

Dog collar

This collar works very good my only problem with it is for the cost the collar shouldn't be made of cheap plastic

(

1/27/2018

)

works great

This collar works. My dog barks once and that is it!

(

1/24/2018

)

Life saver!

I've tried other collars in my beautiful but anxious rescued lab / Australian Shepherd mix. This is working like a charm. Even if she moves it a bit, it still works. Love that the points are longer yet not uncomfortable for her. Thrilled!!

(

1/18/2018

)

Peace and Quiet... FINALLY

Our 70 lb. Goldendoodle LOVES talking to our neighboring dogs and friends no matter what time of the day or night. This collar has saved us! The instructions are simple and the collar is very easy to put on. I love that it is a rechargeable battery. Three different settings are perfect, and the step setting works perfectly for our fluffy dog even when her fur is long. This is the s Cindy collar we have used for her and the other one didn't even work on the highest setting. This one works at the lowest. The highest it's ever reached is step 3. I can't say enough good things about this collar!

(

1/6/2018

)

SportDOG NoBark SBC-R

Excellent bark collar. This collar is several levels above any of the coin battery powered bark collars (and well above other non-lithium rechargeable collars as well).

Our previous coin powered bark collars would last 3 days at best, requiring constant (and annoying / costly) battery replacement. Depending on how often the dog barks, our coin powered bark collar would sometimes last only two days. This Sport Dog lithium rechargeable collar lasts at least a week… and if the dog learns fast (by staying moderately quiet), it can last two weeks or more before requiring a charge. On top of that, the collar charges in a very short period of time (around an hour or so). It also has a very readable LCD display.

Also, this collar is smart. When first turned on, it will allow the dog to bark a few times before beginning corrections. Any more than that and it will give a light correction before escalating the power level (and seems to reset after escalation). The dog learns very fast to NOT bark!

I would have given this bark collar a solid 5 stars if it were not for the very clumsy (and stiff) hard plastic strap and metal buckle collar it is supplied with (as are all other bark collars too).

I modified my Sport Dog collar by replacing that stiff plastic strap / metal buckle collar with an appropriate size (in length), 3/4" wide, nylon fabric snap-on collar (many to choose from at any pet store). This type of fabric collar makes installation on smaller dogs MUCH, MUCH easier!

This important (but simple) mod is performed using a Dremel tool with a cylindrical 1/8" burr to open up the collar strap slot height (side to side), allowing the thicker nylon fabric looped ends to pass through.

You will also need to perform an even simpler mod to the new nylon fabric collar's plastic end buckle. This is for removal and later reinstallation of the fabric loop end. This mod is performed by simply cutting a slot in the middle bar (where the nylon strap's loop end is now) with small wire cutters.

Cut an opening just wide enough to allow removal of the nylon fabric loop end. After threading the nylon fabric strap through the wider openings previously Dremeled out of the Sport Dog collar, simply pinch the loop end to allow re-installation on the middle bar of the plastic buckle.

Now, removing the collar for recharging is literally a SNAP... and is the way this collar should have been supplied. This buckle mod helps a lot for those smarter dogs who recognize what this bark collar is all about.

It now snaps on and off very quickly... no hanging on to a squirming dog for several minutes while trying to put that darn steel pin into the adjustable strap holes, and THEN re-thread that stiff plastic strap under and through the metal buckle itself... not an easy task by any means!!

Hey Sporting Dog... make this mod available asap for much improved user friendliness… and MUCH LESS STRESS on the dog too!!! (

12/30/2017

)

Super product

I had tried a couple of different collars, then got Sport dog. It works sooo well on our Great Pyrenees. I ordered this new one when I was afraid my 3 yr old collar was not charging. It appears my plug in was not working and my old one is fine but decided to keep this "just in case" Thanks for the wonderful product, highly recommend!

(

12/29/2017

)

Barking Beagle

We have a 3 year old beagle who constantly barks at squirrels. 3 days of using your no bark collar and I have seen 70% reduction in his barking. Working great!

(

12/22/2017

)

Very effective

This collar didn't immediately curb much barking, so changed the mode so I could set the shock. That maded all the difference. Now the dog will bark still but only if startled or he senses danger, which is fine with me. That's when I want him to bark. Im happy with this collar

(

12/21/2017

)

AWESOME

This collar is phenomenal. By the 2nd day the barking had subsided. By day 3 he was no longer barking...period. This product does everything it claims! My dog has been wearing it for a week, about 8 hours a day and I have not yet had to recharge it. I highly recommend this collar to cure nuisance barking.

(

12/15/2017

)

Good product

This product works great. I have a lab, basset, Border collie mix and I only use it for training purposes. After the second "stimulation" he stopped barking.

(

12/6/2017

)

Love it!

This collar for my Lilly is a godsend! Now I can leave her in my back yard when I go out to do errands without worrying about the neighbors complaining about barking.

(

10/21/2017

)

Works really well

This is the 3rd bark collar I've tried. It works perfectly. The dogs got initial shocks, and now are much quieter. I like the choices for programming lower shocks.
The only thing I didn't like was the buckle collar. It is hard to tell the correct "hole" to use every time. I finally changed it to a nylon web snap collar and it's perfect. The size never changes. (

10/13/2017

)

great customer service

I haven't actually received this product yet there was a problem with shipping. not sporting dog fault the delivery driver lost it. but sporting dog has helped me through the process and getting it all worked out. they are a very great company I give 5 stars for customer service. once i recieve it and use it I will post another review on how it works

(

10/8/2017

)

It works!

We have 2 small dogs, about 20 pounds each. Our previous bark collars worked at first, but the dogs figured out that if they HOWL, they didn't get shocked. This has escalated into a huge problem for us and the neighbors. I hesitated to buy another shock collar, worried that they could still howl.
I started with the most barky dog, and set the collar at level 1. Bark, small shock, yip, then quiet. Several times during the first days, he would bark, get shocked, yip, then stop. Although I hated to shock him. I had to stop the barking. I can't believe the difference. Although we bought another collar for our second dog, I haven't even taken it out of the box. Maybe he is a quick learner and sees his pal getting shocked for barking. Or maybe he gets triggered to bark when the other one starts up. Things are eerily quiet here. The neighbors must be in shock (no pun intended), and we are all relieved. The dogs seem fine, no change in their personalities or activities. I highly recommend this collar, even when similar ones haven't worked. (

10/6/2017

)

Amazing!

I have a 1yr old lab/great dane mix named Dempsey who would nuisance bark at night while we where eating or going to bed . We tried a lot of other training methods (including a bark collar that would vibrate only )
After 1 week with spotDog NoBark SBCR bark collar thats not an issue anymore !!! We have only had to put the collar on a few times after that . Love this product and strongly recomend it to anyone that has a nuisance barking dog. (

9/28/2017

)

Almost Perfect

This has really helped us with diminishing our German Shepherd's incessant barking. The only issue is that it will sometimes giver her a correction when she isn't barking or making any noise. It doesn't happen often.

(

9/27/2017

)

PERFECT NO BARK COLLAR!

My Chihuahua mix was a CONSTANT barker at any little thing…seeing dogs, people, squirrels outside the slider as well as anything he heard outside the condo. I almost had to bring him back to the shelter to find a more suitable, less stressful environment for him to live in without all the stimulation. This collar was the answer to peace & quiet as well as a calmer dog. I had tried another less expensive collar that was only partially effective. Thankfully he ate through it & I had to look for a better alternative. The SportDOG SBC-R is highly effective. Mode selections are easy & the charge remains for long periods of time. Don't hesitate to purchase!

(

9/13/2017

)

Awesome.

It took only 1 week to get Rocco to stop barking at our neighbors constantly. Thank you!

(

9/7/2017

)

Works Well!

We bought this bark collar for our Basset after trying half a dozen other bark collars. We've received complaints from neighbors and even had a warning delivered for her barking disturbing the peace. She is a sweet dog, just barks a lot! This collar has almost eliminated her barking. After her first bark the correction stops further barking. I like the rechargeable battery. It was hard to replace the batteries in the other collars we tried or we had to buy special batteries. I love this product.

(

9/2/2017

)

I'd buy again.

Works excellent. Easy to follow instruction.

(

8/30/2017

)

Works great!

Love it!

(

8/24/2017

)

BEST EVER NO BARK COLLAR

After buying about 4 other no bark collars over the past 5 years I had really given up on them as none of them really worked on my Rat Terrier. Someone told me about SportDog about 6 months ago but I didn't follow up right away because I really had given up. Well to my pleasant surprise this SBC-R Bark Control Collar DID work! Hallelujah!!! It was absolutely amazing. One bark and instantly she stopped. Then a few seconds latter another single bark and she stopped immediately. She has not barked once since then except when she doesn't have it on. I swear to you this dog was neurotic and barked constantly. Since she has stopped barking our other two Ratoodles hardly bark at all. Even when they do bark at something she refuses to join in. She is the instigator and the instigator is cured! Thank you SportDog from the bottom of my heart.

(

8/22/2017

)

Great

The collar works very well. My Goldendoodle doesn't bark when the collar is on. Hopefully she is beginning to get the idea to not bark at all.

(

8/18/2017

)

It works!

Awesome product. Much better than the old bark collar. The adjustable strape keeps it in place. As soon as I put it on our dog she stops barking.

(

8/17/2017

)

As advertized.

The collar works well and has made an incredible improvement in our anxious dog's barking. She is 9 years old and since losing her alpha pal was barking for everything. Thank you for a humane self trainer.

(

8/1/2017

)

Working out perfectly!

I purchased 2 of these collars. They are working out perfectly. I have a 100 lb yellow lab & a 30 lb terrier mix. Both dog took to these quickly with min. correction needed. So happy w/ my purchase. Thank you for helping me solve my "barking dog" issue in my new home/neighborhood.

(

7/31/2017

)

Problem solved in one day!

I bought a $10 bark collar from Amazon that seemed to do nothing at all. My dog is deaf so the tone sound does nothing to prevent barking. This collar remembers what level worked last time and starts there if your dog barks again. After about 20 minutes of using this collar, my pup understood what barking meant. After a week of use, he seems to know the drill and the house stays quiet when he has the collar on!

(

7/14/2017

)

Life Changing!!

I bought the collar for my 7-year-old very stubborn male yellow lab when we moved into an apartment for the first time in his life. One week later, he is NEARLY bark-free! (Only barking comes when another dog "starts it.")

(

7/7/2017

)

Works wonderfully!

I use the mode that learns what level shock your dog needs and it works great. My dog only went up to level 2, and now is consistently at level one. I did try the shocks on myself both highest and lowest settings. Even the lowest setting is extremely unpleasant. I chose this collar because it had the most humane controls and features. I definitely recommend.

(

7/5/2017

)

Much quieter now

We purchased two of the bark control collars for our two dogs. Our older dog needed very little review before he got it. Our younger dog has needed to wear it a little more frequently, but we have definitely noticed a difference. I like how it remembers what feedback she needed and goes from there. I would recommend this collar for helping to train your dog.

(

6/28/2017

)

It worked great!

I have a German shepherd Dog that would not stop barking. We had another bark collar that he would bark through the shocks and never stop. This collar worked instantly. We finally have peace and quiet in our house.

(

6/23/2017

)

Life Changing

This dog collar may have literally saved our relationship with our rescued lab, Forbes. We live and travel full-time in a motorhome. Whenever we would leave the motorhome without him, he barked endlessly until we returned home, subsequently ticking off the neighbors (understandably so). According to our neighbors, the collar solved the problem the very first time we put it on. So glad we found this.

(

6/22/2017

)

Great

his is exactly what I needed for my big loud lab. He found his setting and that's where it stays. Can't use this on my sensitive female lab as it doesn't have a vibrate only setting.

(

6/21/2017

)

excellent

Very impressed with company. Very helpful in assisting us to purchase the correct product. Delivery was very fast. Collar worked extremely well from start. Simple to prepare for use and simple to use.

(

6/10/2017

)

Great product.

The collars were purchased for both of my Airedale terriers. The older male was the real barker and it took just a couple of corrections for him to stop completely. I put them on at night and take them off during the day. Definitely solved my problem.

(

6/2/2017

)

Awesome Product!

Great product, very pleased with the results so far. Using the collar on a Doberman and Austrailian Shepherd. Both have responded extremely well!

(

5/30/2017

)

Works!

We would highly recommend this collar. We were having trouble with our German Shorthaired pointer wanting to bark excessively. We had tried 2 other collars, based on ultrasonic sound, or ultra sonic sound with a vibrating distracting device. They did not work for us. Once we purchased the SportDog NOBark collar we had success in just a matter of a few days. He learned quickly when to bark and when not to bark. We do not place the collar on him while in the house, or while playing, but we use it when he is outside for long periods of time. This collar was a huge success for us. We also loved the fact that the collar did NOT break his spirit. He is still a happy dog, and the collar helped us gain a control over his barking.

(

5/22/2017

)

Very pleased!

Our black lab Bailey was a noisy girl. When we let her outside, she would bark at every leaf in a tree... constantly. I was a little nervous about using a bark collar on her, but it sure did make a major difference in the first two hours! After the first week, we can now let her in the yard without the collar and her barking is now completely under control. Love that it auto set a low level that was right for her. So happy, and my neighbors say thanks!

(

5/22/2017

)

Great products!

Great bark collar! Use it for my two Labradors.

(

5/16/2017

)

Excellent

The collar works great results immediately

(

4/12/2017

)

So far so good

After a week of using this collar I have seen a huge improvement in my black labs barking behavior. She still likes to test the limits, but she learns very quickly when she tries. Very pleased with the collar.

(

4/5/2017

)

Excellent

I don't usually write reviews but this product was so incredible I had to share. It literally worked overnight with no problem. It has worked every night since without fail and my dog is not scared of it. The owners deserve the Nobel Peace prize!

(

3/18/2017

)

Great Product

By:

H. A. (Butch) Charlton

Product works as advertised, i received immediate results with both of my dogs while wearing the bark collar. No barking at all after only wearing the collar for a very short time.

(

3/14/2017

)

Great Product

Both of my dogs responded very rapidly to these collars and I only have it set on the very lowest level. Very happy with the product

(

3/4/2017

)

Bark collar

Very good at stopping the bark, no remote needed! I move it around several problem barkers! The yard is quiet now.. thanks again!!

(

3/3/2017

)

Not for huge long haired dogs

Does nit work with Caucasian Ovcharka breed, collar is too small (typical), even in a shaved location it did not work. Either does not provide enough correction or does not pick up the bark. Will be trying one of the ultrasonic varieties.

(

2/16/2017

)

It really works!

This collar does the trick! I truly love the time and technology that was placed into this product. The safety feature is what really grabbed my attention. I must say, it grabbed my dogs attention at "first bark" as well. While wearing this collar my dog won't dare to push the limits. Just be sure not to allow your dog wear it for more than the recommended time frame (12 hours). It will cause irritation to the skin if left on beyond that and over time. Keep the area clean and the collar, you will have no problems at all! Hope this helps.

(

2/16/2017

)

Excellent

After the first 2 day of using the collar our Corso barely barks. We sparingly use after 2 weeks, only when he'll be outside for extended periods of time. If are just letting him out and right back in, no need for it as he seems too have learned already. Still work in progress but very happy. Haven't even had to recharge it again yet.

(

2/11/2017

)

Great Product

We purchased the 10R Nobark collar for our 4 1/2 month old Norwegian Elkhound. While normal distraction procedures work for barking at distant noises, anything in her sight led to barking tirades we couldn't stop. With the 10R in Progressive mode for 2 days we have now backed off to option 3 on level 1. That stops her from the incessant barking. She has learned a low level "huff" that doesn't trigger the collar but it won't bother any of our neighbors. Thanks for a product that works as promised.

(

2/11/2017

)

Great product.

Definitely worth the price. Was very effective for my black lab who insisted on barking too much. Battery lasts a long time. Convenient switching options. I tried three other brands but none of them worked well. Best $100 I could have spent and the neighbors are much happier too!

(

2/4/2017

)

Great Product

This collar allows my dog to bark when it's appropriate while also reining him in on excessive rants. This collar has been a blessing for my family (and the neighbors). Thank you so much!

(

2/3/2017

)

Working so far haven't used much yet

We haven't used it more than maybe 3 times but the times that we did it work as soon as I put it on him he hasn't barked with it on so it is definitely worth the money and paying this off so far our dog had destroyed our front door twice prior to buying this and had scratch the door so deep it was unfixable and this was a brand new house we just bought and this was needed to be put to an end before it got worse. Therefore I rate this is a good product definitely worth the money
(

1/21/2017

)

great product - totally satisfied

This collar worked immediately. If our little guy gets a little rambunctious we slip on the collar and he settles down immediately.

(

12/28/2016

)

It works!!

My dog barked through his last collar, but this one is worth every penny. Various settings let your dog bark a little, or not at all. Love! Love! Love!!!

(

12/9/2016

)

Excellant

Two older dogs about 6-7 years old, and they stopped barking immediately after the first couple of training shocks. They respect the collars now and we have nice quiet dogs that are still good watch dogs.

(

11/15/2016

)

Very effective

The dogs know that they need to behave, after only a few days of use. Good battery life. Easy to use.

(

11/8/2016

)

The Best

My dog was a stray when I made him part of my family. We also have a smaller dog. My dog, Gibbs, is smart but loves to bark at squirrels, rabbits, etc. It had gotten worse this summer. This collar did the trick to stop unnecessary barking. Now he doesn't need to wear it. It worked within two weeks. Sometimes I just leave it lay out for him to see. Thank you thank you thank you

(

10/20/2016

)

Works great

Works great on our American Bulldog..he is smart and understands the temperamental mode...on the other hand our coon hound must enjoy the corrections because he barks less..but still barks with the collar on.

(

10/4/2016

)

Excellent product!

Within the first day of using this on our Dachshund her barking has been under control. Before using this product she would bark at anything. A most annoying constant Yapping. I can now let her outside without the collar and her barking is under control. I especially like the multiple settings this collar has. You can set it so that continuous barking will increase correction strength, and remember where the dog stopped barking at and start there. You can also set it so it increases and then starts at the weakest level. There is also a 'user' setting that you can set it at any of the levels for when the dog first barks.
Excellent product, I would buy again if I ever needed too! (

10/1/2016

)

Amazing

I was weary to spend this much money on a project for my dogs barking. But I was desperate because my red tick hound barking was so loud and so constant. After three days he would not bark but the collar on and after a week he would not bark without the collar on. For me this was a last resort but he is so much more calm and relaxed without all the barking .

(

9/26/2016

)

Works well.

Our adopted hound shows no anxiety, sits for collating and is getting quieter every day. We are using it less, although he needs reinforcement. Pleased with how easy it charges.

(

9/18/2016

)

Great

The collars we purchased are working very well and I really enjoy the fact they are re-chargeable.

(

9/12/2016

)

Actually Works

My pup has bad separation anxiety, she would bark the entire time she was alone. After trying everything we decided to try a bark collar (since we were about to be evicted). She stopped barking completely after this collar.

(

8/4/2016

)

Good Buy

Our chocolate lab was a bit noisy but this collar corrected him immediately. I feel it's humane and the right fit for us. Product as advertised. Worth the price thus far. it.s been in use for two weeks. Hopen it stands up with time!

(

7/4/2016

)

Large Breed

Hi. I purchased this product to use on my companion a Great Pyrenees. These dogs are very strong willed. I cut fur away for the collar but she still barks. Just a lower bark. Pyrs do bark a lot. Which is part of their guardian instincts. I will keep trying. One never knows. However this is a great product.

(

6/24/2016

)

Great!

Love this product. The training setting has really worked great and now my dog never goes past one bark when she does. Good battery life and super low maintenance. Also, there haven't been any false shocks. I have a big black lab who is also a whimp and I can attest to this color being humane, yet effective.

(

5/24/2016

)

Perfect

I've been using this for 3 weeks now and the house has never been so peaceful.

(

5/24/2016

)

Pleased

This collar has been a wonderful thing to have. I looked and read many reviews before finally purchasing this. Our dog wouldn't stop barking, and we couldn't even let him out without him barking...almost non-stop. This collar has changed that. He has learned very fast that when he barks he gets a small shock. It only takes one zap to stop him, I don't think he's even barked past level one. He is a smart dog, he thinks twice about barking when the collar is not on, but is also smart enough to figure out that if he doesn't get zapped the after the first bark, he is in the clear. However, with that said, he is improving. We' only had it for 2 weeks...maybe, and it has made our environment (especially for our other dog) a lot more bearable.

(

5/23/2016

)

Great product that really works.

This product has really helped to stopped the annoying barking from our dog.

(

5/2/2016

)

Excellent

It worked after one bark. I have it on 1 and truly feel it doesn't even need to be on. I know our neighbors are very happy. 5 Stars from us

(

4/27/2016

)

Works Like a Charm

This collar works like a charm! We have used other no-bark collars with disappointing and uneven results. I like the choice of correction options and levels. It fits well and is consistent in correcting. Our dog has a very anxious personality, but has learned very quickly that he does not want to bark when he wears his collar, and he becomes quiet and relaxed. We are all getting along much better now!!!

(

4/27/2016

)

Awesome product!

This product is great! I have had it one week now and my dog's barking has already gotten so much better!

(

4/13/2016

)

Excellent Collar

We live in a neighborhood where houses are close and it was very stressful when our dog would be outside barking most of the time and we were constantly trying to correct him with no luck. We have had the SportDOG 10R NoBark Rechargeable Bark Control Collar for a couple weeks now and we finally have peace and quiet. We followed instructions and put it on him (without being turned on) so that he would get used to it a couple times. Once he began wearing the collar turned on his barking stopped after wearing it only a few times. What a difference this has made in our lives, even our neighbors are relieved. Another good feature is that it is rechargeable and you do not need to spend money on batteries and the charge will last over a week if you turn it off when your dog is in a situation where he won't be barking. We highly recommend this collar for dogs that constantly bark.

(

4/3/2016

)

Excellent buy!

5 stars without reservation! Our newly adopted dog had been in shelters for some time and her automatic, constant barking was impervious to human intervention. The flexible settings on this collar allowed me to tailor it specifically for her. Two hours with the collar on decreased barking by 80%; two more hours and she was exhibiting amazing restraint when I knew she would normally bark. About 3 collar days was all it took! Now, for her brief relapses, I either just show her the collar or put it on her but just leave battery off - works like a charm. Still haven't had to re-charge. And, I am an animal nut who had deep reservations about using a bark collar, but watching her response to "shock" reassured me she was not being harmed. Now we're able to use other behavior modification techniques w/positive reinforcements! Thank you so much!

(

3/9/2016

)

Very effective

Love the way it functions but find the actual plastic collar too stiff

(

3/7/2016

)

Great collar

Got this for my dog that barks at nothing all the time. After she barked a few times she stopped and is great with the collar on. She is even quiet without the collar on. I would recommend this to anyone.

(

2/22/2016

)

Amazing!

I love this collar! I got two for my boyfriend's dogs and they work so well! Its been a few weeks and they already know if the collar is on not to bark, I don't even need to turn them on. I would 10/10 recommend this!

(

2/15/2016

)

positive

After using many different products, this was the only item we found that actually worked for our dog. We will be ordering another one.

(

11/18/2015

)

average product

we bought 2 of these and for the shiatsu it works great, however with the Pomeranian even with his fur shaved around his neck doesn't phase him.

(

11/18/2015

)

Collar

This works great!

(

11/11/2015

)

Amazing product.

I have an American Pit Bull Terrier that barks at everything and never stops. People can't walk down my road (we are on the corner and have over an acre lot) without him chasing them the length of the yard just barking. As soon as I put this on him he barked a few times and that was it. Now he will start to make a bark sound and stop. He is a whole new dog with this collar.

(

10/28/2015

)

So far so good

function as described, and rechargeable battery seems to hold a charge for quite a while. I'm still in 1st charge over three weeks of use. Good product

(

10/23/2015

)

Excellent Results

Collar is very ease to use...and I have been extremely pleased with the results.

(

10/20/2015

)

AWESOME!

We have only had the product for a couple of weeks, but the barking has almost completely ceased. We have four dogs so that tells you that the collars must be working and it's not just the dog and it's personality. The quiet is so nice and a welcomed change.

(

10/19/2015

)

Works Good

Directions are not the best. And display is hard to read. But it does the job. I haven't taken mine off the lowest level.

(

10/7/2015

)

It's helping!

We have 2 puppies (Norwegian Elkhound and Finnish Spitz) who both get turns wearing the collar when they are getting a little too wound up. Now that they recognize it, we often don't even have to turn it on to get them to calm down. Highly recommend!

(

10/6/2015

)

Excellent product

This collar worked on our dog right away. No more barking at night!

(

10/6/2015

)

dog collar

Excellent product we have used several other brands and this collar works better then all of them. The different programs and degrees of training allows us to use the minimum amount of shock and it works great.Within two days our Beagle has stopped barking.

(

9/15/2015

)

No more loud barking!

I would say that this product does it job and I have only two small negatives to mention. It is a little big for my 15-16 lb dog and I would not recommend it for a smaller dog than mine. Also, my dog has figured out how to bark soft enough that the collar does not respond. I have used it daily for 2 1/2 weeks so far, along with verbal commands, and my dog will still bark when the collar isn't on him. I am training him to not bark, especially when he is indoors, but he continues to do so when the collar is off. I will give it more time and continue to use the collar, with commands, and hopefully his barking will diminish even more. I am happy with the collar overall.

(

9/15/2015

)

Great product

Love this bark collar it's the only one to actually do its job on my excessive barking dachshund!!!

(

8/15/2015

)

Good but not great

This collar hits on two of three areas for me. While I am extremely please with the waterproof aspect and bark recognition, ie. not being activated by another dogs bark, the correction does not seem to be consistent. Most of the time it works great. After a bark or two our terrier will get the correction and stop, but there are other times when it seems like there is no correction at all. Sometimes she will bark and continue barking with no recognizable correction. When it works it appears to work just as advertised, but then there are the other times.

(

7/22/2015

)

Works great!

Works great! After just a couple of times wearing the collar our dog seems to know he can't bark while he has it on. He is still his usual happy self but without all the excessive barking. I would highly recommend this product.

(

7/20/2015

)

works good but....

I ordered this for 2 of my dogs because of the 3 different types of correction. It says that it's good for dogs 8 pounds and over. Since one of the dogs I purchased this for is only 9 pounds and the other is 50, this was the best option. The problem is that it is a little cumbersome on my little guy. I wish this was made smaller . The other thing is the plastic strap. I needed to "make my own" snap on collar as it is set now to the exact size I need for each dog instead of having to play with it every time I put it on

(

7/15/2015

)

out of control barking

This dog collar has been the best thing I have ever got for me and my dog. Before getting this collar my dog would bark constantly and after getting this collar he makes no noise. If your dog has a problem with out of control barking this device will make your life and your neighbors life much better!!

(

5/7/2015

)

excellent!

I have a pit bull that is a terrible barker... this collar is excellent ~ the re-chargeable battery is a great feature as well. Fast shipping also. Thank you

(

4/25/2015

)

It actually worked

I have a 15 year old beagle who started having accidents in the house so i had to start locking his crate door at night. He loves his crate, just not with the door locked. Once he figures out he can't get out he begins incessantly barking. I tried associating his favorite treats with his crate,. I tried only locking him in for short periods of time in hopes that I could eventually lengthen it to overnight. Nothing worked. So I got a bark collar from one of our local pet stores and he barked right through all the levels on that collar. After weeks of trying to figure out how to help my dog stop barking i got the SportDog NoBark and it actually worked. I put it on him, set it to the Progressive Correction mode and locked his crate door. 1 bark, 2 bark, 3 bark, 4 bark, 5 bark (I was cringing at this point thinking this isn't going to work), 6 bark, 7 bark...DEAD QUIET. It only took 7 barks for him to stop barking and he hasn't barked since.I LOVE This collar. It's easy to use, the instructions are easy to comprehend and most importantly IT WORKS.

(

4/2/2015

)

success!

We would highly recommend this collar. We were having trouble with our German Shorthaired pointer wanting to bark excessively. We had tried 2 other collars, based on ultrasonic sound, or ultra sonic sound with a vibrating distracting device. They did not work for us. Once we purchased the SportDog NOBark collar we had success in just a matter of a few days. He learned quickly when to bark and when not to bark. We do not place the collar on him while in the house, or while playing, but we use it when he is outside for long periods of time. This collar was a huge success for us. We also loved the fact that the collar did NOT break his spirit. He is still a happy dog, and the collar helped us gain a control over his barking.

(

3/21/2015

)

Great Product

This product worked wonders. I used it on our Keeshound, and he learned quick. Loved the different levels.

(

3/13/2015

)

Great $ spent

Best collar we bought so far. Works like a charm. Thank you!

(

2/14/2015

)

my dog stopped barking in three days

This collar has been amazing! My dog stopped barking in three days, but more importantly, my neighbors have stopped bothering me about it. Best part is letting the collar automatically set it's level based on when he stopped barking. This thing simply works. Thanks for the quick delivery guys!

(

10/10/2014

)

Skip the other collars, this one is the best.

I tried 4 different bark collars on my pit bull before finally settling with this one. This collar is leaps and bounds better than any of the others. I don't have to charge the unit often, and it's been so effective that I barely even have to turn the power. He's learned to stop just by having it on.

(

10/10/2014

)

A perfect bark collar

Been using this collar for the last year in temperament learning mode. I tried other brands in the past, including the Garmin collar, and had technical problems with them all. This one holds up through all of Rocky's extreme adventures through the woods in the back. A great buy.

(

10/10/2014

)