E-collar with remote beeper built in. Perfect for the serious upland hunter and bird dog trainer.
The Delta Upland XC remote training system from Garmin uses proven Tri-Tronics® technology and is 3 devices in one. It combines beeper capability with an easy-to-use remote dog trainer and built-in BarkLimiter. Upland's beeper features include your choice from 4 hunt sounds so you can hear your dog on the move or can run silent, and 2 sounds to indicate your dog is on point. The beeper even has a locate feature for the hunter who wants an audible update on a dog's position, even when the beeper is running silent.
Features include an LCD display, intuitive 3-button-front controller, and separate side buttons for correction level adjustment, mode selection, and dog selection (supports up to 3 dogs with additional dog devices). It even remembers individual dog training/beeper settings and is optimized to work on all dog breeds and coat lengths. Designed for the serious upland hunter and bird dog trainer, the Delta Upland XC features a compact and lightweight versatile handheld transmitter and dog device. Plus a beeper is included to help locate the direction of your dog and determine if the dog is on point.
With a 3/4 mile wireless range, simple, push-button design, easy-to-read LCD transmitter display, and a built-in BarkLimiter, you'll be able to correct your dog instantly in the field and keep a quieter kennel at home. Delta Upland XC features 8 different hunt and/or point configurations that are easily changeable on the beeper so you can manage up to 3 dogs at once (w/ purchase of additional dog devices and beepers - sold separately).
Simplified and Effective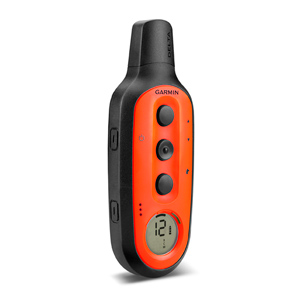 Delta Upland XC is ergonomically-designed to require only 1 hand to operate with 3 front "action" buttons for beeper activation, stimulation, tone and/or vibration. Side buttons and an easy-to-read LCD let the trainer switch easily between training/beeper configurations and different dogs being trained. The slim, compact dog device is optimized to work on all breeds and coat thicknesses. All with an effective range of 3/4 mi.
Upland Beeper
Delta Upland XC adds a lightweight (3 oz) beeper attached to the 3/4" training collar and is operated remotely with the handheld device. Capable of 4 hunt sounds (including silent) and 2 point sounds (including hawk scream), the beeper incorporates the latest in sound technology to achieve more than 1/4 mile range to help locate your bird dog and know when it's on point. Additionally, the beeper has a locate feature operable when in silent hunt mode. The hunter can push the beeper button on the handheld and the beeper will emit a series of tones as long as the button is pressed. The locate feature is for the hunter who doesn't want to hear the beeper all the time, just when they cannot see or lose track of the dog.
3 Ways to Train Your Dog
Delta Upland XC offers dog trainers the option of using either: 18 levels of continuous and 36 levels of momentary stimulation, vibration or tone. With 5 correction/beeper configurations (viewable in the LCD display), the trainer can select the option best suited to the situation and dog temperament. Delta Upland XC offers the ability to control up to 3 dogs (with additional dog devices sold separately) and quickly change between them.
Built-in BarkLimiter
Delta Upland XC features a Garmin BarkLimiter built right in. BarkLimiter recognizes the difference between barking and other vocalizations as well as vibration from scratching and scraping or from other dogs' barks. Thus, it virtually eliminates false and over correction. The autorise function automatically adjusts correction to the optimum level needed to stop unwanted barking.
Tough, Waterproof, Long-Lasting
Like all Garmin outdoor products, the Delta Upland XC handheld, dog device and beeper are designed to be effective, rugged and waterproof (IPX7). A long-lasting rechargeable, lithium-ion battery is included for both the transmitter and dog device and a replaceable CR 123A battery comes with the beeper.
Features
Continuous and momentary stimulation, tone and vibration modes
3/4 mile range
Beeper with 8 possible combinations of sounds, including 4 hunt (including silent)and 2 point (including hawk scream)
Use beeper control button on transmitter to instantly locate dog, or switch beeper sound on or off
5 training configurations
Offers built-in BarkLimiter using advanced bark correction technology
Compatible for up to 3 dogs (w/ purchase of additional dog devices/beepers - sold separately)
Integrated stainless steel contact points optimized for all breeds, all coat lengths
Waterproof (IPX7), rugged, compact and lightweight design
Long-lasting rechargeable lithium-ion batteries for both handheld transmitter and dog device
Replaceable CR123A battery for beeper
Compatible with all Garmin ¾inch collar straps
In the Box
Delta Upland XC Handheld
Dog Device
Beeper
Orange 3/4" Collar Strap
Charging Clip
Lanyard
USB Cable
USB Split Cable
AC Adapter
Owners Manual