Professional-Grade Dog Doors Built to Last and Become a Part of Your Home or Kennel.
Application: Exterior Doors - PlexiDor PD Door units can be installed in any type of standard household exterior door.
The most durable dog door on the market, with options made to fit your home or kennel decor. Made from heavy duty aluminum and precision UV-resistant composite materials, the PlexiDor gives your dog easy access through any door. Easy to install, the fixture can be mounted onto doors of any thickness, and can also be installed in glass. Using a glass conversion kit, the door can go through a sliding patio door, french style door, or even a window.
Never Purchase Replacement Flaps Again
PlexiDor Pet Doors do not require replacement flaps. The shatter resistant saloon style door panels are manufactured from K-9 COMPOSITE™ which is specially formulated to resist damage from sunlight, extreme temperatures and high impact. The door panels have been rigorously tested to withstand the harshest outdoor conditions.
Maximum Energy Efficiency
Each PlexiDor Pet Door is designed with features to help save energy. The K-9 COMPOSITE™ panels are lined with industrial grade weather seal around all four edges to reduce air conditioning and heat loss. So whether you live in the hot desert climate of Arizona or in the frigid cold of Alaska, PlexiDor will save you money every month. Your pet will love the quiet, smooth and safe doors and you'll love seeing a lower energy bill. Added Security Features PlexiDor Performance Pet Doors come with a lock, key and steel security plate. Simply turn the key to lock the door. When leaving for an extended period or while away on vacation, add the steel security plate. No other pet door provides the security of a PlexiDor Performance Pet Door.
Freedom and Peace of Mind
Your family will enjoy the freedom and peace of mind that a PlexiDor Performance Pet Door will provide. Like freedom from the worry of damage to your floors and carpets. Your pet will love the freedom to relieve themselves when they need to; while you are away at work during the day or without interruption in the evening when you are at home relaxing. Or, peace of mind knowing your pet will have safe and easy access to the outdoors and the added health benefits of fresh air and exercise.
Color Choices for Your Living Space
PlexiDor offers three elegant colors to compliment your home; Silver, White, or Bronze. White and Bronze frame finishes are baked on the interior and exterior frames for increased durability. A PlexiDor Pet Door is by far the most attractive pet door you will ever install in your home.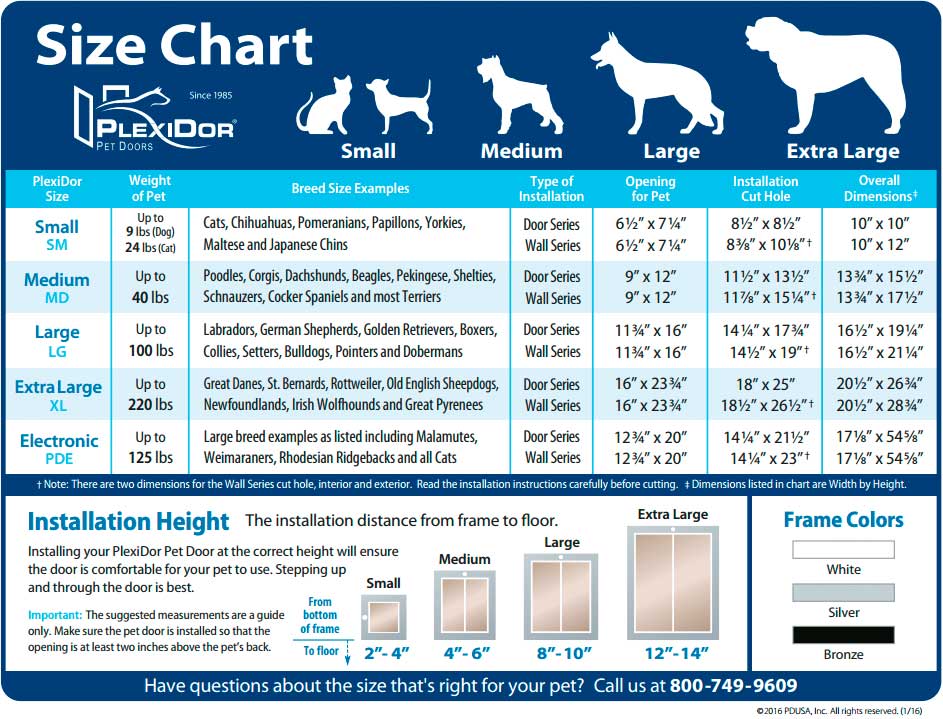 Each time you open the door to let the dog out, your heating and cooling escape. Installing a Plexidor Performance Pet Door in your home can save as much as 10% off your energy bill! They can also be installed in any type of standard door or glass.
Plexidor Performance Pet Doors are offered in silver, white or bronze to coordinate with your home to look sleek and stylish. All Plexidor products offer a 90 day unconditional money back guarantee and 5 year warranty. Need help finding a local pet door installer? Call 888 PET-DOOR (888-738-3667)